A new study finds that burns resulting from illegal cannabis oil production are more severe and expensive to treat compared to other types of burns.
Cannabis oil, commonly called hash oil or simply hash, is a resin that's made when a solvent is used to extract marijuana. The problem is that many of the solvents used in the process – the most common being butane – are highly flammable. Often the solvents are not properly ventilated, which can lead to explosions, fire, injury, and in some cases death.
"Canada is set to legalize cannabis next summer, but the impact of this policy change on burns from cannabis oil production is unknown," says lead author Sarthak Sinha, a fourth-year psychology and neuroscience undergraduate student at U of T Scarborough. "We felt it was important to get some Canadian data since the proposed law set to kick in next summer will permit home production of cannabis oil."
The study, which is the first in Canada to characterize burns from illegal cannabis oil production, looked at hospital records from the Foothills Medical Centre in Alberta.
Sinha, who was named last year as one of Alberta's Top 30 Under 30 by the Alberta Council for Global Co-operation for working with researchers at the University of Calgary, spent over two years manually going through medical burn records to determine who was injured as a result of cannabis oil production, finding 12 cases that met the criteria, including one fatality.
The characteristics were unique and unlike those found among the general burn patient population. For one, patients tend to be younger, with males far more likely than females to suffer injury (a 10-1 ratio compared to 2-1 for other burns). The burns also covered a greater surface area of the body and required more surgery and recovery time. Since these burns require greater medical intervention and longer hospital stays, they also cost more to treat.
As part of the research, Sinha and his co-authors also looked at five similar studies, four from the U.S. and one from New Zealand, and found the results echoed the Canadian study.
"If you do enough of these extractions the gases from the solvents can build up and all it takes is static electricity to ignite an explosion," says Sinha. "Since it's often taking place in basements that are poorly ventilated, it can be dangerous."
Sinha first became interested in burn research in high school after connecting with Jeff Biernaskie at the University of Calgary, whose dermal stem cell lab explores tissue regeneration. Despite only being in Grade 11, Sinha started helping with basic research and also going out into the community to learn how the research could help burn patients.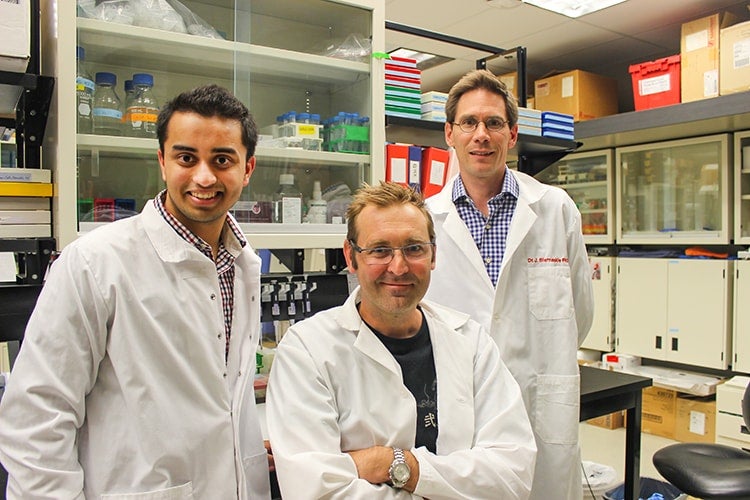 Sarthak Sinha (left) worked with University of Calgary researchers Dr. Vincent Gabriel (centre) and Jeff Biernaskie (right) on the study 
The inspiration for this particular study came after attending the American Burn Association's annual meeting – made possible by a travel grant from U of T Scarborough's department of student life – where he attended presentations about burns from illegal drug manufacturing. He then became curious about how changing policies in Canada could affect the burn community here.
Sinha notes there are limitations to the data. For one, there's no way of telling how many burn injuries go unreported due to fears of being prosecuted for illegal cannabis oil production, and he says it's also likely that less severe burns go unreported as a result. Meanwhile, there are no statistics on how common these burns are across Canada.
"No one wants to admit to illegal activity, so unless the burns are severe, it likely won't show up in hospital records," he notes.
Regardless, like the studies done in New Zealand and the U.S., researchers here found that burns from cannabis oil production should be taken seriously.
"One of the biggest takeaways should be greater awareness around cannabis oil production. This doesn't have to be a dangerous activity if done properly, but often it's done in isolation and without proper equipment," he says.
"This is where public education can play an important role."
The research, which will be published in the journal CMAJ Open, was a collaboration between Sinha and several researchers at the University of Calgary including Biernaskie, Dr. Vincent Gabriel, and Dr. Duncan Nickerson. It received funding from an Alberta Innovates (AI) grant, the Alberta Children's Hospital Research Institute, and Canadian Institutes of Health Research.